Easy Baby Scarf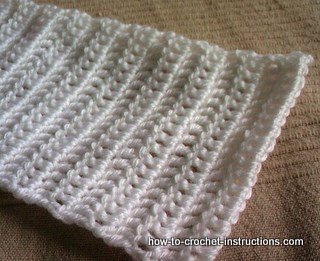 Very easy and very quick to make, this crochet baby scarf is ideal for beginners.
Note - a baby should not be left unattended wearing this item!

With its small size, only one stitch type and no shaping it is ideal to try out your new skills.
If you know how to make a chain and work double crochet (UK trebles) you could easily make this in an evening while watching the TV.
More experienced crocheters scroll down for a fancier version.
Materials Needed
About 50g of acrylic yarn of a light worsted weight (UK Double knitting)
Allow more yarn if you are using wool, cotton or a wool or cotton blend
4mm hook
Abbreviations
ch = chain
dc = double crochet (uk treble)
tc = turning chain
How to make your baby scarf
Make 21 ch
ROW 1 Work 1dc into 4th chain from hook. Work 1dc into each remaining ch to end 3ch turn (19 stitches)
(the 3ch at the end of each row forms the turning ch (tc) and counts as a stitch)
ROW 2 Miss 1dc, work 1dc into each remaining dc of previous row to end, 3ch, turn
repeat ROW 2 until your work measures about 25inches
Do not work the tc at the end of the last row.
Finish by breaking the yarn (leave a few inches). thread this yarn through the last stitch and pull to tighten.
using a large blunt needle darn in the loose ends of yarn
Simply put...........
........If you already know how to crochet.
Work 25 inches of double crochet (UK trebles) 19 stitches wide

Did you like making this baby scarf? Click here fo rmore easy patterns
Variation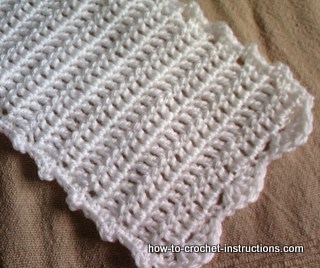 Variations on the baby scarf
More experienced crocheters might like to add a few fancy stitches to make the scarf a little prettier.
When you have finished the last row, add shell and picot edgings like this:
Make 1ch
Working down side edge, *work 3 single crochet (sc) (UK double crochet)
make 2ch, slip stitch (sometimes referred to as single crochet in UK) into place where last sc was worked**
repeat from * to ** all down the side edge
Now work shell stitch along short edge:
make 1ch work 1dc into first stitch *miss 2 stitches. 5 dc into next stitch, miss 2 stitches, 1dc in next stitch**
repeat from * to ** twice more.
repeat the picot and shell edges on the other 2 sides.
Fasten off and darn in loose ends.

             -------------------------------------------
Here's another adorable scarf pattern for a baby made to look like lego - genius!

.



Show off Your Work!
Have you finished crocheting something recently? Tell the world! Publish your work on this website for free
---
JOIN US AT CROCHET FANATICS ON FACEBOOK
---