Free Crochet Patterns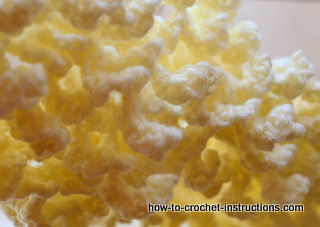 There are a multitude of free crochet patterns available, designed by people who love to crochet and who want to help others who love to crochet. 
It never ceases to amaze me the breadth of ideas, designs and ways to use a crochet hook and a ball of yarn.

Here are some of the best free crochet patterns:
Easy free crochet patterns If you are a beginner here are some to start you off and give you a sense of accomplishment
Free baby crochet patterns Babies and crochet go together like bikers and leather (well you know what I mean)  it is almost like crochet was invented for them.  They grow so quick.  You make something and they've grown out of it in a couple of months, so you don't want to be taking months to make things for them.  Crochet is ideal because it is so quick.  And it looks so pretty.
Free patterns for crochet hats and other head gear  I could write a massive book just on crochet hats.  It's unbelievable the designs available, from hats to get married in to hats to do the gardening in. 
Free patterns for baby blankets.  Blankets and afghans are brilliant for crocheting, but they are big and can take a long time.  Ah but for babies they're done in a jiffy.  You don't need a pattern, just choose a stich and your yarn and crochet a rectangle.  Then add a border too if you like.  But even so it's good to get some creative ideas regarding colour, yarn and stitch combinations
Free bags and purses crochet patterns Purses, handbags, shoulder bags, shopping bags.  They're all fun to create and make great gifts
Free patterns for crochet accessories Hats, scarves, gloves, socks belts, jewellery - yes even jewellery can be crocheted

granny square instructions.  The mother of all crochet designs.  This is what your grandmother made and wore.  When I was a teenager you would have been laughed at.  Now they are a fashion statement.
crochet edges Often give the final finishing touch and be as plain or as fancy as you like, or just plain traditional
extreme crochet. This is where crochet gets big and bold.  I dare you to try it.  No hook required, just a fist and a fistful of yarn
Yet to come:
crochet for the home
crochet jewelry (free crochet jewelry patterns)

crochet embellishments
colourful crochet
decorative crochet (crochet embellishments)
crochet scarves
crochet socks (and other footwear)
free crochet afghan patterns
free crochet toy patterns

 .
.
---
.



Show off Your Work!
Have you finished crocheting something recently? Tell the world! Publish your work on this website for free
---
JOIN US AT CROCHET FANATICS ON FACEBOOK
---