Free crochet hat patterns
A selection of free crochet hat patterns, hair ornaments and other headwear
Free crochet hat patterns and other headwear - just a drop in the ocean of how you can hook up some easy head ornaments.

Curlicue Hair Tie A neat and pretty way to hold your hair in place. (not a hat but it still goes on your head doesn't it).  Ultra quick to make and ultra quick to tie in your hair. Great for charity sales and bazaars. 

Ever so easy.  This woolly beanie hat is crocheted sideways with a double crochet stitch (US single crochet) worked into the back loop only to give a nicely stretchy rib pattern

or a simpler version of the ribbed hat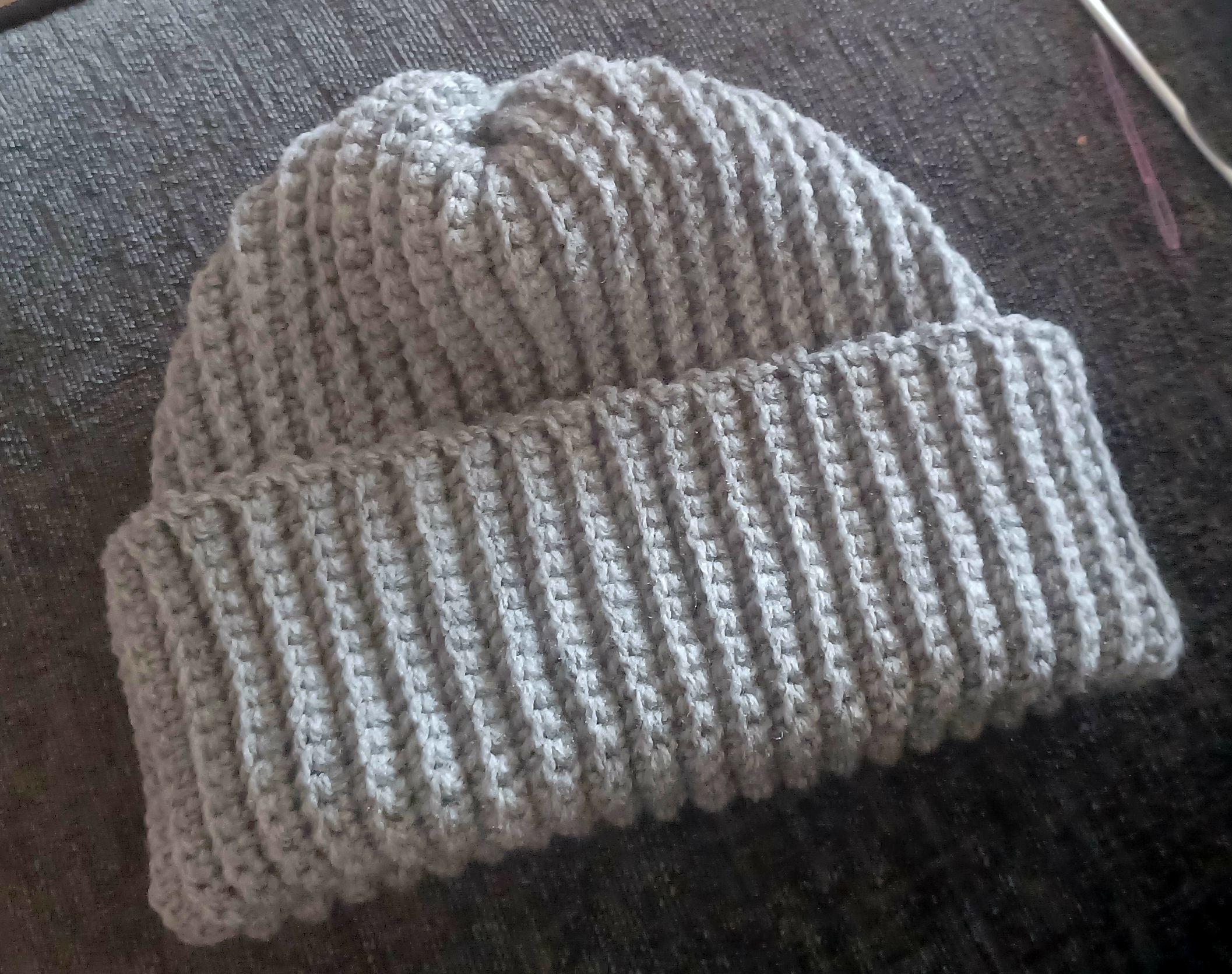 And if you are looking for a slouchy beanie hat take a look at this wonderful and easy free downloadable crochet pattern or this lovely design if you prefer something more textured and a little more challenging
For a beautiful baby. This cute accessory for a gorgeous little girl makes a quick and easy last minute gift

Think now about crocheted wedding hats.  For a bride these are most usually made in the form of a lace cloche, but personally I think these look more like doilies.  A much nicer idea is a crocheted floral headband like this one which is so delicate and pretty. Now I know most of you reading this are in the US so before you get confused, it written in UK terminology, just drop me a line on the contact page if this is a problem for you
This pretty headband with an optional bow is wide enough to keep your ears toasty warm without your head getting too hot.
You could also use this to hold your hair back while you apply makeup

Make a baby bonnet in bold bright colours, or use traditional baby shades.  Either will have your baby looking pretty as a picture

And not forgetting the boys.  This little beanie hat is so cute and can of course be crocheted in pink too for a little girl

A rather ingenious fashion accessory is the cowl scarf, or as some people call it a snood or an infinity scarf. This is a scarf that is wide enough to pull up over your head if the weather gets a bit extra chilly. It is also joined into a round which if short can sit snugly around your neck or for a long one, will drape elegantly in front or tuck cosily inside your coat

Click here for instructions and ideas for cowl scarves

And lets not forget the men. (why do they always come last?) It's not so easy to make crochet look plain.  Although I personally don't think men should be afraid of pretty or flowery stuff, most men would prefer plain and chunky.  One way to make a crochet hat look more manly is to add a beard - and yes there are plenty of patterns out there with added crochet facial hair, but I think something more like this is just the ticket........

Men's chunky beanie by Jenni designs is just the ticket
This page is still under construction - more to come

 .
.
---
.



Show off Your Work!
Have you finished crocheting something recently? Tell the world! Publish your work on this website for free
---
JOIN US AT CROCHET FANATICS ON FACEBOOK
---
free crochet hat patterns