Granny Squares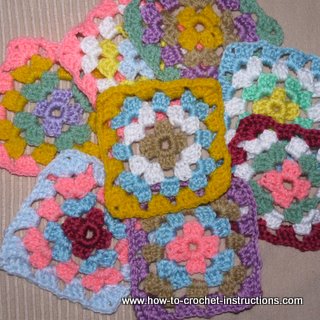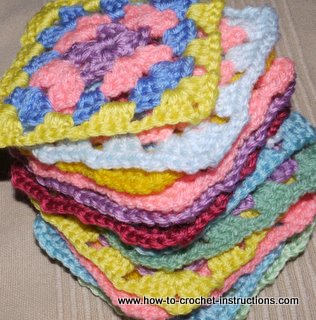 Granny Squares
This is what most people envisage if you mention the word crochet. They are, to quote a well used cliché, the marmite of the crochet world.  You love them or hate them. Many years ago people were put off crochet just because granny squares were the only type of crochet they knew about.  Crochet is of course a lot more than just multicoloured squares made out of remnants of left over yarn.  There are many, many different ways and styles of crochet
But let's not forget granny squares or cast them aside as ugly nd old fashioned (which admittedly they sometimes can be)

Delightfully old fashioned and rather quaint. Strange to think that they were so called in the 1960's and were all the fashion at the time, worn sewn together to form bright gaudy waistcoats which clashed horrendously with floral prints.
Now those trendy 60's women are grannys themselves, and the trend now seems quaint and old fashioned.
That's not to say that they cannot be modernised. Keep the colours few and simple and you can make some gorgeous stuff for around the house, even if you dare not wear them.
Or, as I have done in the photo's above, make them random and multicoloured for an old fashioned eclectic retro look.
In fact there are surprisingly so many variations on the granny square that you could never really get bored with them. (Well .... except for all those nuisance ends to darn in)
You can make them one colour or multicoloured
Make them big or small by altering the size of your hook and yarn. Make as many rounds as you like for each square - in fact you could just keep going with one square making it bigger and bigger until it becomes a blanket. But what most people do is stitch or crochet lots of small squares together.
And you needn't stop at blankets. Sew them into bags, jumpers, scarves - whatever you want
Vary the look and feel by using different yarns and hooks
Use a fine fluffy yarn and a big hook for a delicate lightweight throw. Or at the other extreme, use extra thick cotton and make a floor rug.
To make a square you will need to know how to work chain stitch, slip stitch and double crochet (UK trebles).
If you are new to crochet, just click on the link to the top left of this page for beginners to learn how.
Instructions for making various types of granny squares
single colour squares
multicoloured squares

Single colour plain square
Multicoloured plain square

How to join your squares together





 .
.
---
.



Show off Your Work!
Have you finished crocheting something recently? Tell the world! Publish your work on this website for free
What Other Visitors Have Said
Click below to see contributions from other visitors to this page...

Baby Blanket Not rated yet
This is my first atempt of a baby blanket
Baby Blanket Not rated yet
This is my first atempt of a baby blanket
---
JOIN US AT CROCHET FANATICS ON FACEBOOK
---