Crochet Stitches
There are thousands of varitions of crochet stitches. I hope to show you, relatively, just a few. From there on you can go on to experiment and design your own, or browse through the web for more ideas or buy or borrow one of the hundreds of books available on the subject
It is amazing and fascinating when you begin to discover just how many variations there are. Just by altering the number of times you wrap the wool round your hook and when and where you insert your hook you can produce many different looks.
If you are new to crochet then go to Beginner Crochet to learn the basics.
Once you have learned how to hold the hook and yarn and how to make a crochet chain you can go on to learn the four most basic stitches.

Learn the basic crochet stitches
Single crochet (UK double Crochet)

single crochet and raised stitch rib

half double crochet (UK half trebles)

Just by adding more turns of yarn around your hook you can go on to make longer and longer stitches: double trebles, triple trebles, quadruple crochet, and so forth.
Another useful stitch to learn is the slip stitch which is mostly used as a joining stitch and useful for working in rounds. ....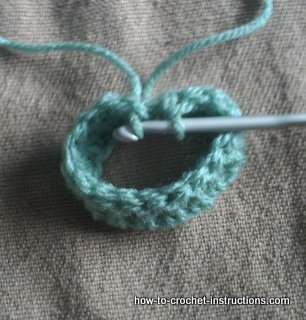 .....but it is also possible to make a slip stitch fabric (not worth the effort in my opinion)

It is also useful to know how to increase and decrease

Once you have mastered these, you have all the skills neccessary to work hundreds of stitch patterns and textures such as shells, bobbles, raised stitches, zigzags (chevrons) and circles.
You can also further alter the look and feel of your piece simply by using a textured yarn.
There are so many hundreds of variations of every stitch that I could not possibly even begin to cover them all, but there is nothing to stop you experimenting.
One very pretty classic stitch which uses single crochet and double crochet (UK double crochet and trebles) is shell stitch which is a surprisingly easy stitch pattern to learn 


It IS however possible to make a slip stitch fabric which looks vaguely like knitting. It is however fiddly and takes forever as the stitch has little height to it.
Further Reading
Want more crochet stitches? there are hundreds of books out there with thousands of stitch ideas. One of the best places to look for books with instructions for crochet stitches is Amazon UK or Amazon US If you find a book you like the look of, more often than not you will find second hand copies available.
Or you can search the thousands of crochet books available at Amazon here

for US residents.
If  you reside in the UK go to:

 .
.
---
.



Show off Your Work!
Have you finished crocheting something recently? Tell the world! Publish your work on this website for free
---
JOIN US AT CROCHET FANATICS ON FACEBOOK
---