Textured Crochet Stitches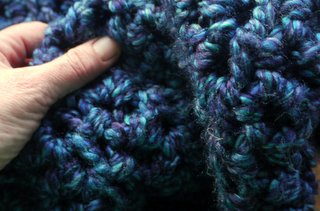 What is meant by textured crochet stitches it to make your crochet fabric lumpier.  That doesn't sound too good does it really. and anyway crochet is already quite knobbly without any extra techniques or fiddling about, unlike knitting which is quite smooth.  There are however a multitude of ways of rearranging crochet stitches and by inserting your hook in different places and wrapping your yarn in different ways you can come up with some interesting and often very pretty variations.
The ultimate in textured crochet stitches in my opinion, is raised stitches, and when combined with crochet bobbles and popcorns in various strategic combinations and by criss-crossing the raised stitches you can come up with some very convincing aran patterns very similar to knitting that will take you half the time to make.
So crochet really is so very pretty just as it is with plain stitches, but wow can you make it look magnificent and stunning just by altering your methods a little
Here are just a few ideas for you to be getting on with.  Hope they whet your appetite for more:

Some ideas for textured crochet stitches
First, a simple textured stitch, and raised stitches
Turn a Plain Smooth Yarn into a Textured Fabric and learn to make raised stitches which can be used for aran style patterns, crochet ribbing and basketweave stitch amongst many others

Is fluffy yarn really a quick way of adding texture? or could it be your worst nightmare?!
Working with fluffy yarn is really quite difficult.  With knitting its ok I suppose, but with crochet it is well nigh impossible to see where to put your hook.
With either knitting or crochet it is also a nightmare to 'unpick' if you go wrong
So really - please - if you are a beginner, just don't go near the stuff.  Tempting I know because fluffy yarns are so gorgeous, but they BITE! ha ha.  What seems to be a good idea to get some beautiful texture to your work without any complex stitches could turn out with you tearing your hair out with frustration

Beautiful teardrop stitches
As you can see used on this cute baby jumper

Bobbles and popcorns
 Very similar to the Bobbles and popcorns you see in knitted aran  (fishermen's) sweaters


Picot Bobbles
and if you prefer -these tiny delicate picot bobbles are simple to make

You'll love them because they look so pretty and cute, but they're also quite practical and come into their own giving a fine knobbly texture for scrubbies and face flannels
 .
.
---
.



Show off Your Work!
Have you finished crocheting something recently? Tell the world! Publish your work on this website for free
---
JOIN US AT CROCHET FANATICS ON FACEBOOK
---