Easy Free Crochet Patterns For Beginners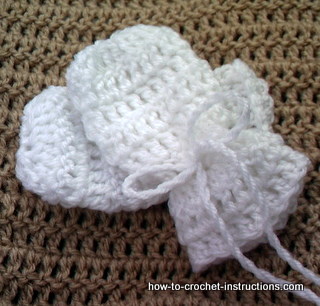 A selection of easy free crochet patterns for the beginer. If you have recently learned how to crochet these quick and simple crochet patterns are for you.
They all use just the basic stitches and some need no shaping. You will soon have something you can use or wear or give as a gift with pride!
With these patterns you will learn how quick and easy crochet really is.
Even if you have only learned how to work chains and slip stitches, you can begin with the wristband. little girls will love them, or use some metallic cord to make one for yourself.
Once you have learned to do basic stitches you can try making the baby scarf or the crochet shoulder bag.
The boa is also simple, but be sur eyou have had some practise first as it is hard to see your stitches when using feathery yarn.
Most of the others use simple shaping and you can go on to try these once you are a little more proficient
Simple Easy Free Crochet Patterns
First of all - the easiest peasiest thing you can do with a hook and yarn involves kids. next time you are in the company of children you can make them happy and amazed and crowding round you as you produce again and again little wristbands that they will love, and they will literally take you 30 seconds to make. What do you do? make a chain long enough to go around their little wrist and leave ends long enough to tie into a bow.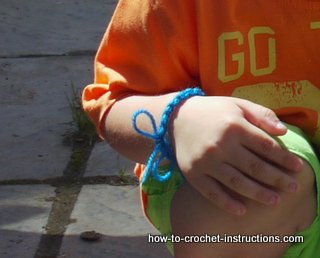 You know it's simple, they think it's awesome!
Now to improve your skills:
Quick beaded bracelet using chain stitch

My all time favourite crochet make - Crochet scrubbies for washing dishes. 


Design your own crochet wrist warmers 

Very easy wristband using only chain and slip stitch 

Easy quick thick cosy blankets 

Easy Baby Hat 

Baby/Child's headband 

Crochet Purse / Shoulder bag 

crochet baby Mittens 

Matching booties for beginners who have had a bit of practise. 

Crochet Button Flower Embellishment 

Crochet Boa (A very quick simple and effective pattern for the more confident crocheter) 

Curlicue Hair Tie Very quick, very easy, very pretty and impressive 

Crochet baby Scarf 

extreme crochet scarf (exceedingly quick and chunky) 



For cold days - try these patterns for a cowl scarf, sometimes called a snood. The patterns may not be suitable for a complete beginner, but you could easily adapt them using a plain stitch. cowl scarf patterns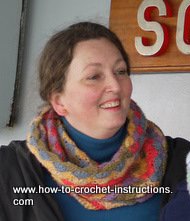 Keen to start but don't know how? If you want to try these easy free crochet patterns and don't know how to crochet, click here for full instructions 

Further Reading
35 Fast, Fun Projects to Make in a Weekend
From Amazon UK: Quick Crochet: 35 Fast, Fun Projects to Make in a Weekend
From Amazon US: Quick Crochet: 35 Fast, Fun Projects to Make in a Weekend
 .
.
---
.



Show off Your Work!
Have you finished crocheting something recently? Tell the world! Publish your work on this website for free
---
JOIN US AT CROCHET FANATICS ON FACEBOOK
---