Beginner Crochet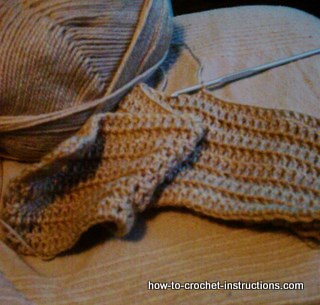 To the beginner crochet may at first seem daunting and complicated, but really it is very easy. In fact, most would say that it is easier than knitting. It is certainly far quicker.
You want to learn to crochet?  You are joining a community of millions, and there is plenty of help out there
All you need is a crochet hook and a ball of wool. Follow the free beginner instructions and you will find learning how to crochet a breeze!
There are just three things you will need to learn to start yourself off:
How to make a slip knot

How to hold the hook and yarn

How to make a basic chain

Once you have mastered these beginner crochet methods you can quickly go on to learn the four basic crochet stitches.
Single crochet (UK double crochet)

Half double crochet (UK half trebles)

Double crochet (UK trebles)

Trebles (UK double trebles)

These can be used as they are, or can form the basis of a vast variety of looks crochet fabrics styles and stitch patterns
Go also to crochet techniques to learn how to increase and decrease and other useful techniques .
Another useful skill is the use of the slip stitch which is a useful joining stitch and is also often used in fancy stitch patterns 
Also it is fundamental to be able to understand the turning chain (tch) and how and why it is used. this often causes much confusion for beginners. if you don't have a basic understanding of this you wil find your rows will mysteriously get either bigger or smaller.  Go to this page,  turning chain , which deals with and clarifies any problems
So now, if you are ready to try out your new skills, here are a few easy
 
Once you have mastered the basic skills of crochet, you will no doubt want to go further and try new stitches and techniques. There are plenty of good books to help you on you way


Show off Your Work!
Have you finished crocheting something recently? Tell the world! Publish your work on this website for free
---
JOIN US AT CROCHET FANATICS ON FACEBOOK
---