How to crochet Crab Stitch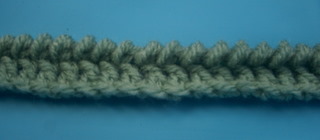 Crab stitch is easy to work and gives a neat and firm edge to your work.  You will also hear it referred to as reverse double crochet (UK) or reverse single crochet (US), corded edge, twisted single crochet and in rare cases shrimp stitch (goodness knows where that name came from)
It's quite plain, but strangely quite pretty too

It's nice for any edge where you want firmness without fuss such as the front edges of a thick jacket, the top of a bag, the edges of bag straps or around a plain blanket.
It feels a bit odd to work this stitch to start with as it is worked backwards and the stitches seem to twist the wrong way as you go, but it is this twisting that gives the appearance of a neat overcasting.
It's worth having a try just for the fun of it and the experience of trying a totally unique stitch, unlike any other.
I have never yet seen it used for anything other than an edging.  I might have a little experiment one day to see what it would turn out like used in some way to make a fabric, and if it's worth the effort doing so.

Instructions for Crab Stitch
First work a straight edged foundation row - single crochet, double crochet or trebles are fine.
This stitch is worked backwards, so at the end of the foundation row do not make a turning chain and also DO NOT TURN YOUR WORK.
Point your hook downwards and then to the right and insert it into the last stitch you made on the foundation row.
Hook the yarn and pull it through. You now have 2 loops on your hook. Hook the yarn and pull it through the 2 loops. You have worked one stitch.
Simply repeat this stitch, working from left to right all along the row.
It's that simple!
Simple to work that is - but not so simple trying to describe how to work it. If you have any problems, please contact me and I will do my level best to help you out, or hopefully the following video will be of help.
VIDEO TUTORIAL
You can now go ahead and quickly and neatly add the finishing touches to cardigans crop tops dish scrubbies blankets and more.  There are so many ways you can use it and  these crochet hearts  show it off at its best
 .
.
---
.



Show off Your Work!
Have you finished crocheting something recently? Tell the world! Publish your work on this website for free
---
JOIN US AT CROCHET FANATICS ON FACEBOOK
---