Crochet Increase
CROCHET INCREASE - INSTRUCTIONS
You are a beginner and have mastered the basic crochet stitches, but so far have only been able to work in squares and rectangles. This is great - there are so many things you can make such as scarves, blankets and even jumpers.
Now you can go one step further and learn how to decrease and increase your stitches to make other shapes. This will open up a whole new world of possibilites with your designs and the type of patterns you can follow. You will be able to make raglan sleeves, halter tops, shaped hats and berets, gloves, teddies and other toys and much more.
You will also be able to learn a lot more stitches too because just like knitting, you can decrease in one place and then increase in another place on a row to make fancy patterned fabrics such as shell stitch Increasing is simple and easy to learn. Put simply, all you do is work more than one stitch into a single stitch. The photograph above shows you how it should look when you have worked 2 double crochet (UK trebles) into one stitch
You can also increase to make an L shape by adding a length of chain stitches to the end of a row. Remember to allow extra chains for your turning chain. work back along the chain stitches then continue working along the row.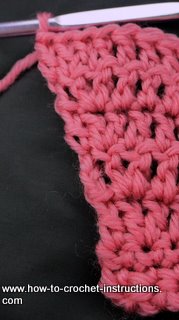 Increasing or decreasing at one side of your work will give a sloping edge.
If you want an overall increase such as for a gathered skirt on a baby dress, then work increase stitches evenly all along the row
When increasing at the beginning of a row, you can work one of 2 ways.
You can either work as you normally would and miss out the first stitch (because the turning chain counts as a stitch), then work two into the next stitch.
(if the whole concept of turning chains confuses you, or if you find that your rows are getting longer and longer, or shorter and shorter then please read this page )
Alternatively you can simply work into the first stitch and still count the turning chain as a stitch which will give you an extra stitch. See photograph below.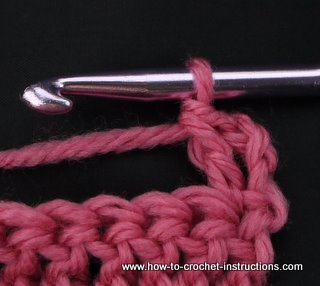 Crochet Increase - Video Tutorial
 .
.
---
.



Show off Your Work!
Have you finished crocheting something recently? Tell the world! Publish your work on this website for free
---
JOIN US AT CROCHET FANATICS ON FACEBOOK
---