Crochet Slip Stitch
Crochet slip stitch is a very useful and simple stitch. It isn't usually used to make a fabric but is often used in more complex stitches and also as a joining stitch.
For instance it is used to join a string of chain stitches into a circle, to join a row when working in a round
It is also used in stitch patterns such as the picot It can also be used to work along an edge to get from one place to another without breaking off the yarn.
Easy to do, just insert your hook as if you are going to work a single crochet stitch (UK double crochet). Yarn on hook and pull through, then pull straight through the loop on the hook.
Using the crochet slip stitch to work in a round
Joining 2 edges together to work in a round using slip stitch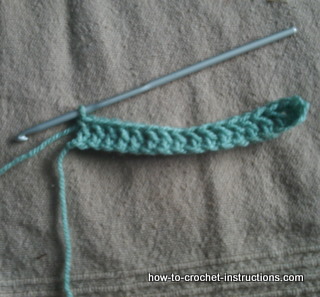 First work one row

Bring the 2 edges together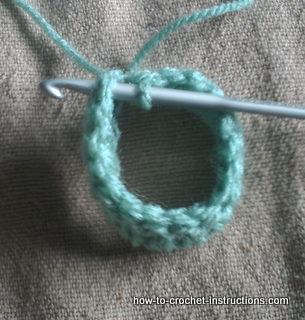 Insert the hook into the first stitch of the row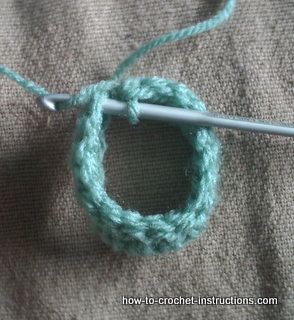 Hook the yarn and pull it through

Do NOT hook the yarn again. Continue to pull the yarn through the loop on the hook
If you want to continue working in a round simply make a turning chain, turn your work and continue to work the next row. Make a slip stitch into the first stitch of each row as before.
This method of working in a round is very useful if you want to avoid too many sewn seams

Slip Stitch Fabric?
You may have noticed that earlier I said that the slip stitch is not usually used as a fabric stitch, not on its own anyway. It is however possible to make a slip stitch fabric, but I am not altogether convinced that it is worth it.

Above is a photo of my rather feeble attempt.  As you can see I gave up quite quickly.  Not that I didn't like the result.  It gives a pretty and delicate stitch pattern, but very fiddly to do and difficult to see where to insert your hook

Amazingly there have been books published on the subject!




Further Reading
I am intrigued to have found this book totally dedicated to the slip stitch! There are no reviews so I don't know what it's like, but worth a look
Uk residents click here: Learn Slip Stitch Crochet (Annie's Attic: Crochet)
US residents click here: Learn Slip Stitch Crochet (Annie's Attic: Crochet)

Learned how to do a crochet slip stitch and want to learn more? Click here

 .
.
---
.



Show off Your Work!
Have you finished crocheting something recently? Tell the world! Publish your work on this website for free
---
JOIN US AT CROCHET FANATICS ON FACEBOOK
---