Crochet Tools and Accessories
The only crochet tools you really need to create beautiful things are a hook and a ball of yarn .
To help you make your crochet life a little easier there are other tools that can help you on your way.
To make your beautiful creations super sparkly beautiful you can also add embellishments such as ribbon, buttons and sequins.
Crochet hooks of course are a must. 
Scroll down the page for another important tool - a darning in needle.  Of course you can "crochet in" most of your loose ends, but you will always be left with at least one at the end which needs a nice big fat needle to tidy it away.
__________________________________________________________
Another useful tool is the STITCH MARKER for marking a place you want to come back to later.  You can use a short length of contrast yarn to do this, or a safety pin, but why not treat yourself instead.  These stitch markers are so cute.
£2.47 including post and packing
UK customers only
(image)
---
DARNING IN NEEDLES
Probably the best are made of steel, but these can be expensive if you are like many people and are constantly losing them.  A good alternative is a plastic needle which serves its purpose quite well
6 blue plastic darning in needles
£2.37 including post and packing.  UK customers only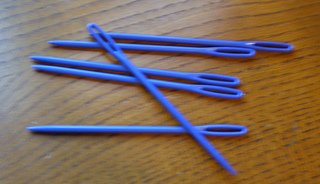 .
.
---
.
---
RIBBON.
Baby booties or baby mitts wouldn't be the same without it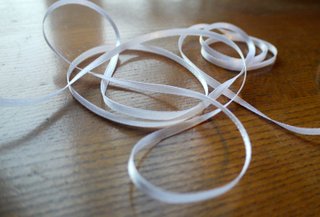 5m of 3mm (very narrow) white satin ribbon
£2.97 including post and packing,  UK customers only
---
Return to crochet shop from crochet tools




Show off Your Work!
Have you finished crocheting something recently? Tell the world! Publish your work on this website for free
---
JOIN US AT CROCHET FANATICS ON FACEBOOK
---