Curlicue hair tie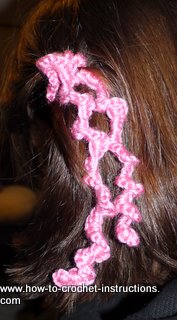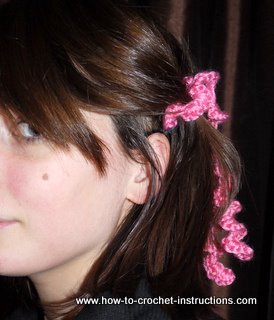 A curlicue hair tie is not just a quick easy crochet project, it is a very pretty and versatile accessory.
There is so much you can do with one of these pretty curly ribbons.
Simply tie it in a single knot and it will stay in place nicely.
You can make them long or short. You can make them curlier by making more stitches in each chain stitch. You can make them less curly by making less stitches.
You can make them thicker by using double crochet instead of single crochet.
Wear more than one together for a lovely ringlet look
For a more delicate tie, use a thinner yarn and a smaller hook
You can make a scrunchie by joining the ends together and threading with elastic.
You can also wear as an alice band.
Try aiming for different looks by using different types of yarn such as a silky yarn or something sparkly for an evening out.
And don't stop at just using them for your hair. They can prettily be used for anything that needs tying.
Try on parcels and gifts. Use on cardigans instead of buttons. use in your dog's hair. or even if you want - use to tie your house plants to their stakes.
Instructions for the curlicue hair tie
To make a one like the one beautifully modelled in the photograph, you will need a 5.5mm hook and double knitting yarn (UK weight)
Make about 50 chain
Missing the first chain, work 4 single crochet (UK double crochet)into every chain to the end.
Darn in the 2 loose ends using a large blunt sewing needle
That's it! Simple!
Have a go and experiment. Use your imagination.
If you like, show us your results by filling in the form below and uploading your photos. We would love to see your beautiful works of art
VIDEO TUTORIAL

 .
.
---
.



Show off Your Work!
Have you finished crocheting something recently? Tell the world! Publish your work on this website for free
---
JOIN US AT CROCHET FANATICS ON FACEBOOK
---