Crochet Chevron Striped Scarf Pattern
A crochet striped scarf pattern in exciting colours and crazy chevrons
Well not exactly a pattern - I'll let you into a little secret - this was supposed to be (yet another) blanket.  It was destined to go into the unfinished projects basket - I swear I must have unfinished items in there from 20 years ago or more if I were to delve into the bottom.
Not that I got bored with making it.  More a case of getting excited over the next project.  And being absolutely delighted with the look of it, I did enough rows to make it wide enough for a scarf.
People think I'm a bit crazy but I love wearing it

So sorry folks but I don't have an exact pattern.  It's easy enough to make one up to suit yourself, and of course you don't have to use the same wild colours if you're not that way inclined.
So here are my instructions to make up your own...

....Chevron Striped Scarf Pattern
I used DK yarn and a 4mm hook
DK (double knitting) is a UK weight of yarn.  If you're not sure if your yarn is the same thickness just look at the ball band and if it recommends the use of 4mm knitting needles (or equivalent) then it's probably just about the same.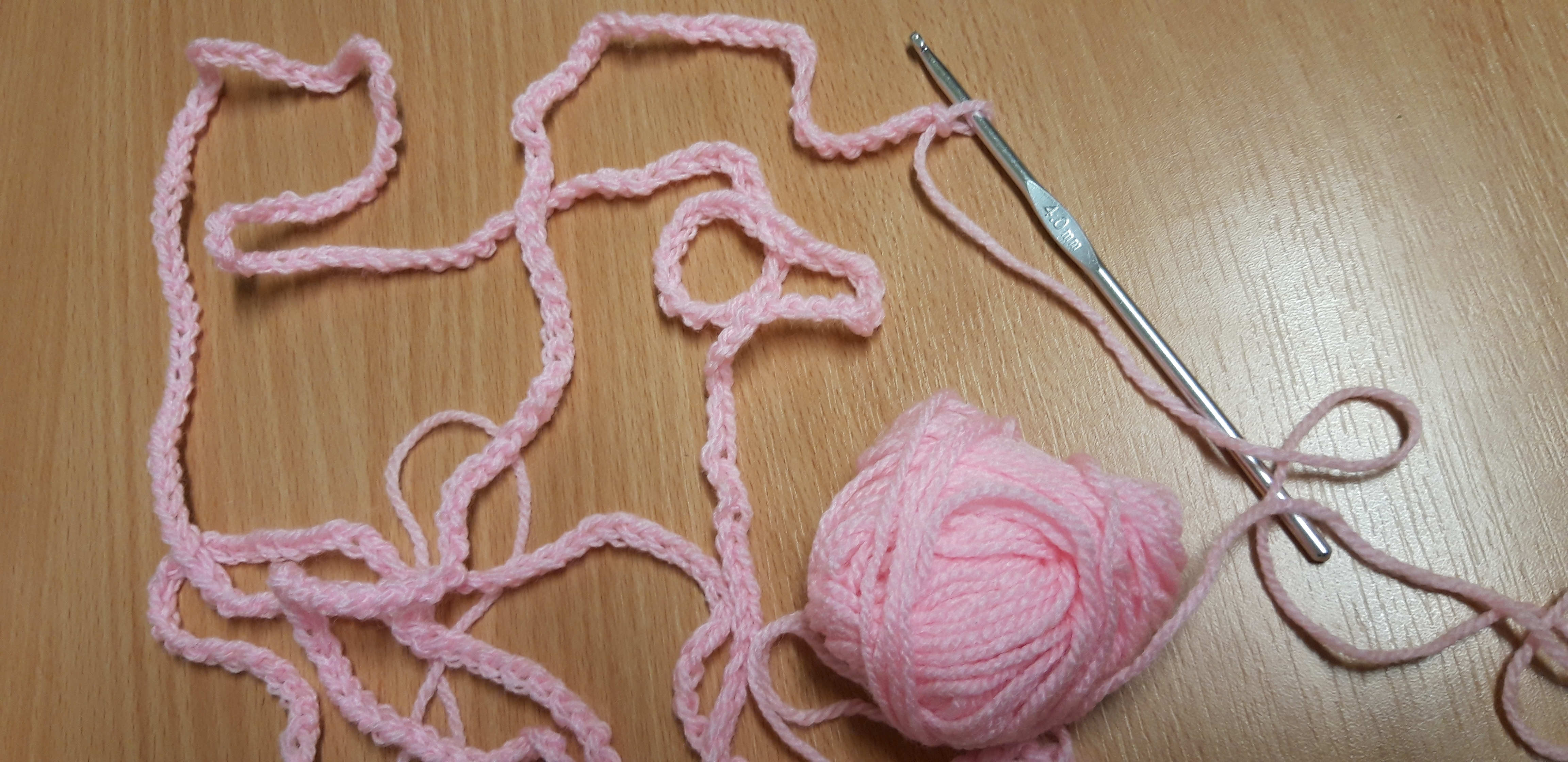 Make a chain to an appropriate length.  Check it around your neck to see if it is going to be long enough.  When I am making a scarf sideways like this I like to add an extra few inches to make sure, because remember you will probably be wanting to tie it in a knot.
If you like to double up your scarf before wrapping it around your neck so that you can tie it by putting the ends through the loop then of course you will need to make it twice the length and not too wide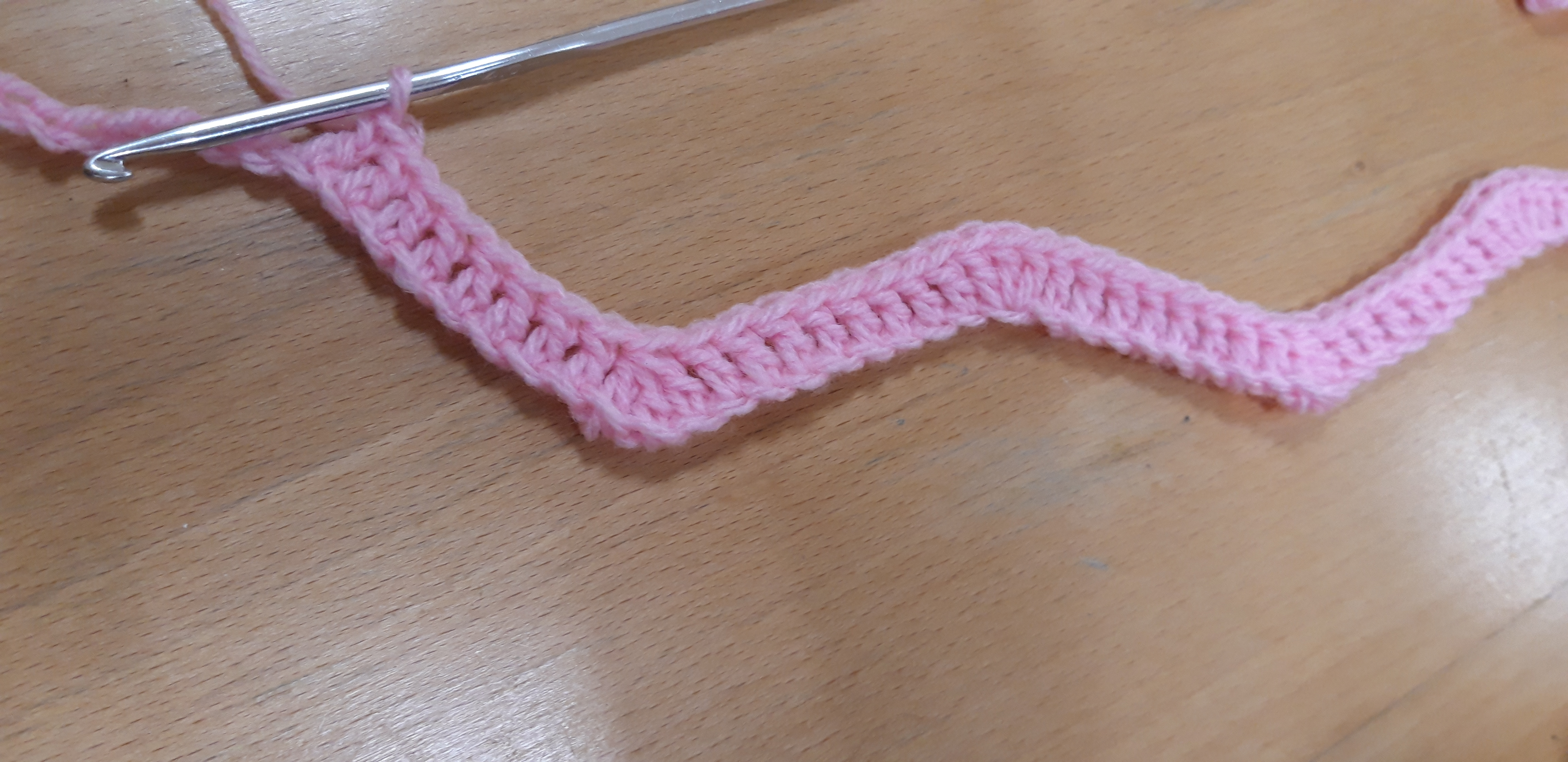 Proceed to do a row of chevrons
Instructions here for a chevron stitch pattern with 3 stitches between each point.
To make chevrons like the ones in this scarf you will need to make 8 stitches between each point (between each increase and decrease)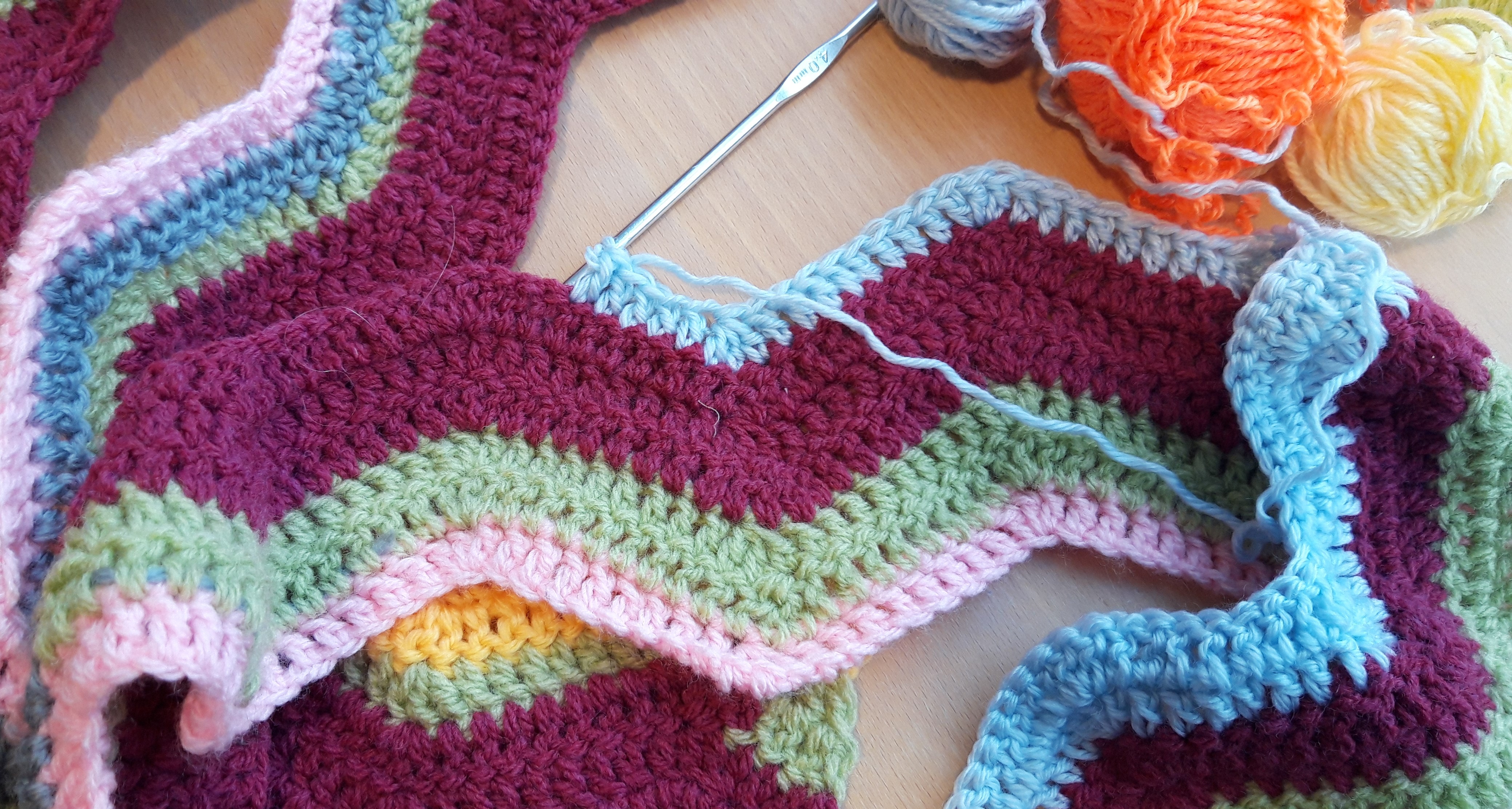 This is a lot easier than it looks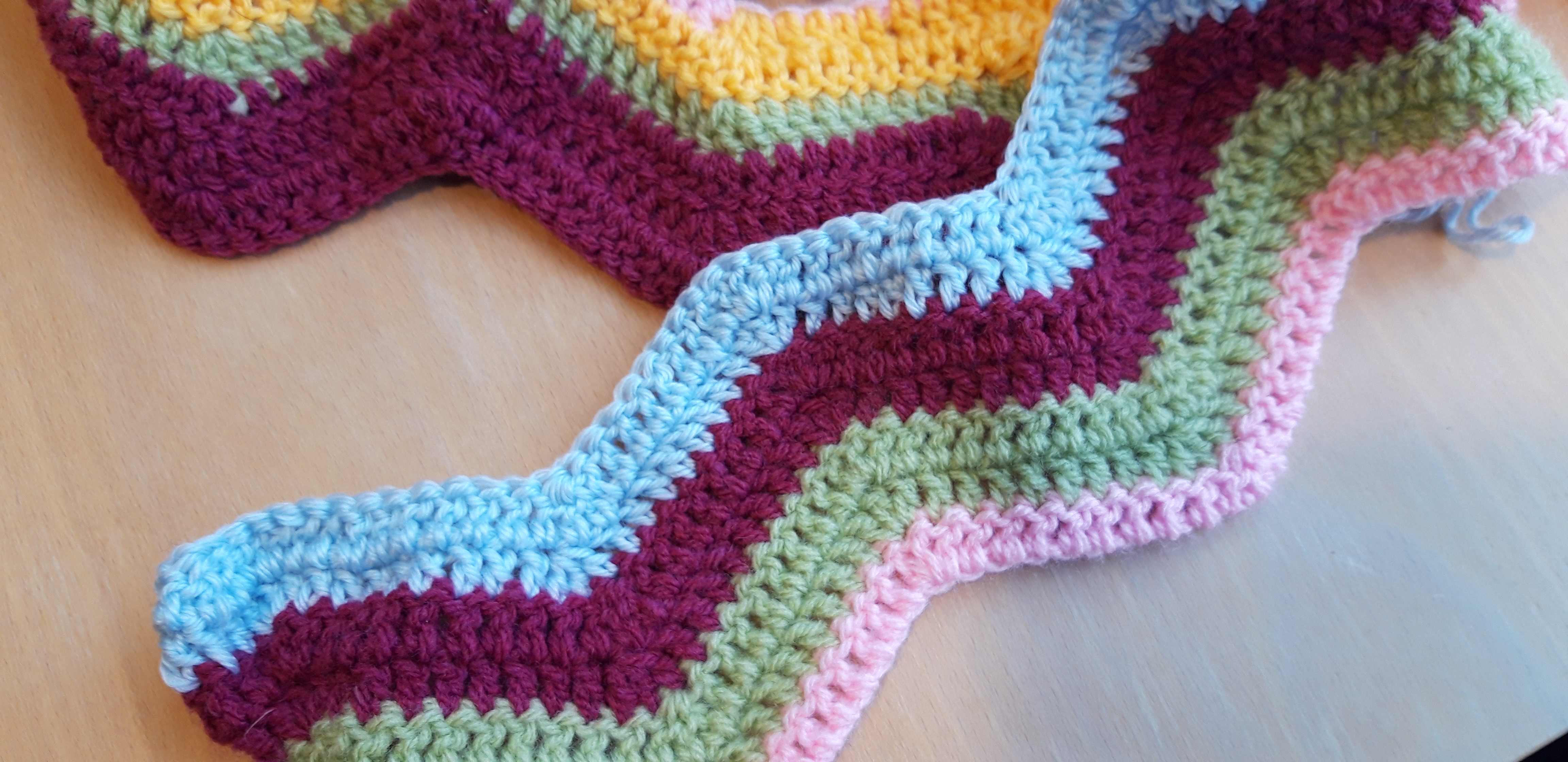 You might have a set colour pattern that you want to work to....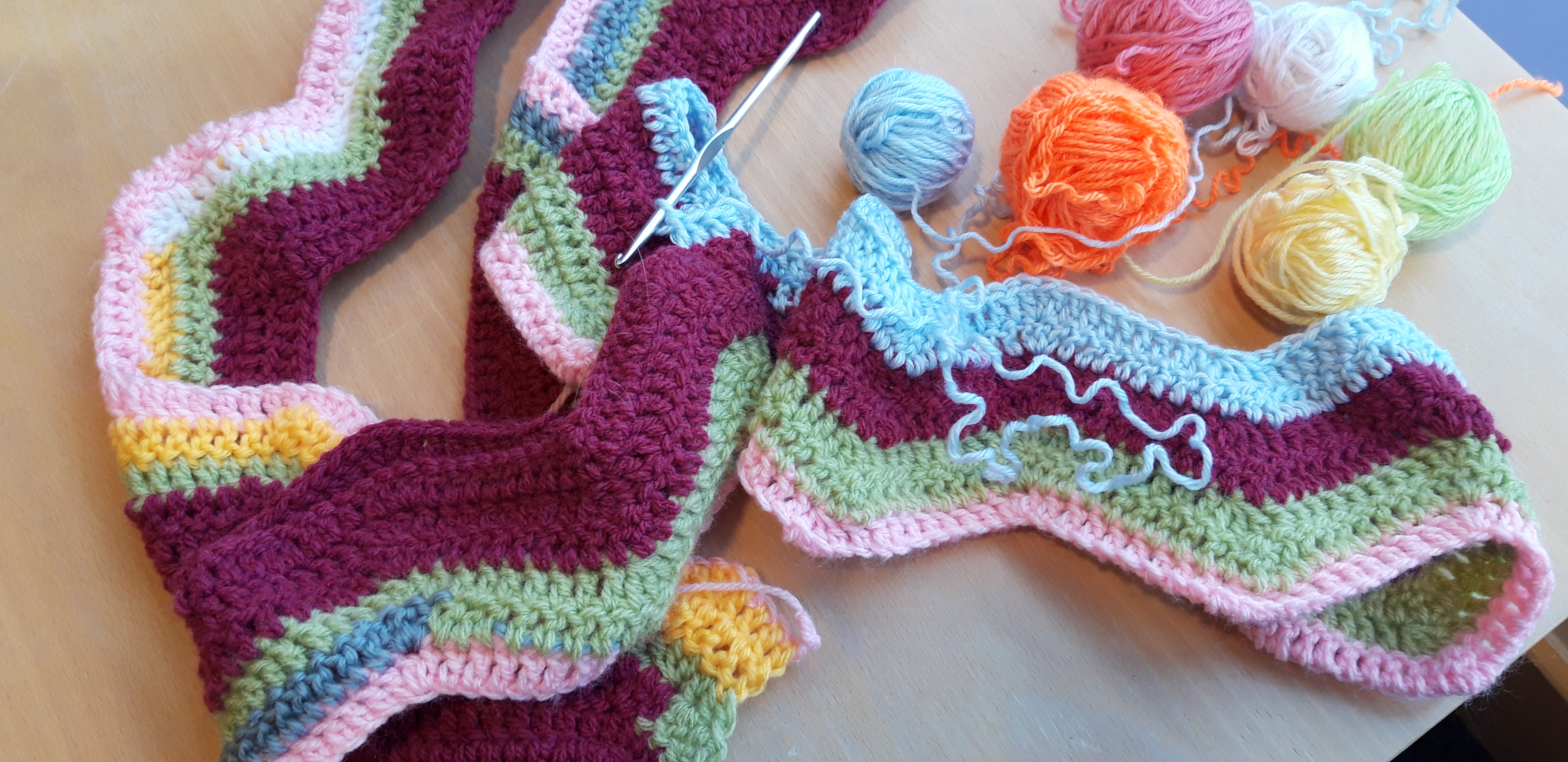 ..... but I just randomly used up leftover balls of colourful yarn.....

 ...until it was a suitable width.
Add a fringe or a crochet edging that you like, or a big pompom
I chose to keep to the eclectic look of random colours and chose a different colour and different stitch for each end.
(No use asking me the patterns for the edging.  Being the numpty that I am I made them up as I went along and forgot to write down what I did)

 .
.
---
.
More ideas for a crochet striped scarf pattern




Show off Your Work!
Have you finished crocheting something recently? Tell the world! Publish your work on this website for free
---
JOIN US AT CROCHET FANATICS ON FACEBOOK
---