Crochet Baby Booties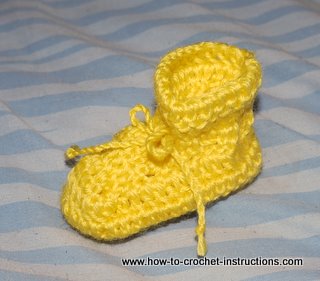 These free instructions are for classic old fashioned crochet baby booties.
Tiy can make them a little fancier by using ribbon instead of a twisted cord tie.  Youi could also add a fancy edging at the ankle such as a pretty shell edging.
Traditional colours to use would be white, pale blue or pale pink.  Possibly pale yellow or cream would also be acceptable as classic colours.  Or for a more  modern look, these days bright colours such as the yellow in the photograph can look really cute too.

Instructions for the crochet baby booties
for crochet baby booties
ABBREVIATIONS
ch = chain
tch = turning chain
dc = double crochet (UK treble)
st = stitch
sts = stitches
dc 2tog = double crochet 2 together (UK treble 2 together)
You will need double knitting yarn (UK weight) For a new baby, use a 3.5mm hook For an older baby use a 3.75mm hook For a toddler, use a 4mm hook
THE PATTERN (Starting at top of ankle cuff)
Make 26ch Work 1 dc into 4th ch from hook Waork 1 dc into each remaining ch to end (24 stitches including tch at beginning) 3ch, turn
Next row: Miss first stitch (because the 3ch (tch) counts as the first stitch)
Work 1dc into each stitch to end. work 1dc into tch. 3ch, turn.
Work between 1-3 more rows, depending how deep you want the ankle cuff to be. The bootie in the photo has a total of 3 rows.
Omit the tch at the end of the final row.
fasten off. Turn
TOE PIECE
After fastening off and turning, miss 8 sts. join in yarn at 9th st Make 3 ch for first st. Work 1dc into each of next 7 sts
(ie you are working over centre 8 sts)
3ch, turn.
Work 3 more rows of dc
fasten off, turn.
SIDES OF BOOTIE
Join yarn into first of 8 missed sts. make 3ch for first stitch.
Work 1dc into each of next 7 sts, 8dc up side of toe piece, 8 dc across top of toe piece, 8 dc doen other side and finally 8 dc across remaining sts at base of ankle cuff. (40 sts including 3ch at beginning of row) 3ch, turn.
Work 1 more row, 3ch, turn
DECREASE FOR SOLE
Miss first st (because the 3ch counts as the first st)
Work dc 2tog, 11 dc, dc 2tog twice, 4 dc, dc 2tog twice, 11 dc, dc 2tog, then 1dc into tch.
3ch, turn.
Final row: Miss 1 st, dc 2tog, 10 dc, dc 2tog 4times, 10 dc, dc 2 tog, 1 dc into tch. Fasten off.
If you like you can add a fancy edging to the top of the ankle cuff.
Using a large blunt needle, sew back of cuff and sole together.
Thread a ribbon, or twisted cord through the base of the ankle cuff and tie in a bow.
VIDEO TUTORIAL
 .
.
---
.



Show off Your Work!
Have you finished crocheting something recently? Tell the world! Publish your work on this website for free
---
JOIN US AT CROCHET FANATICS ON FACEBOOK
---