Crochet Hat
This crochet hat is made using a simple double crochet (US single crochet) stitch and is quick to make.
You will need just less than 100g of acrylic double knitting yarn which is a UK weight of yarn.  If you don't know what the equivalent is, just choose a smooth yarn (ie not fancy) which recommends the use of 4mm knitting needles.
You will also need a 5mm hook, and a blunt sewing needle for darning in.
If you want to add a pompom there should be plenty left out of a 100g ball of acrylic yarn. 
If you are using wool remember this weighs heavier and you will get less length in your ball of yarn.

Making the crochet hat
Abbreviations
ch = chain
st = stitch

sl st = slip stitch

dc = double crochet (US single crochet)
dcb = double crochet (US single crochet) into back loop only
Instructions
make 43 chain
The hat is worked sideways

Row 1
dc into 2nd chain from hook and to the end of the chain (42 sts)
Row 2
1 ch, turn
36dc
miss last 6 sts

Row 3
1 ch, turn
36dcd
Row 4
1ch, turn
36dcd
6dcd into the 6 sts missed 2 rows ago (42 sts)
Row 5
1ch, turn

42 dcd (to end of row)
repeat rows 2 to 5 until the hat fits around the head with a bit of a stretch.  This will be on average around 80 rows total ending with row 4.
Either sew together using a large blunt sewing needle or use a crochet st st for a neat seam (see video below).  If you are sewing don't forget to reverse the seam so you can fold the brim up without an unsightly seam showing.
Using the sewing needle thread yarn through the ridges at the top of the hat and gather it together.  Secure with a couple of back stitches.
Of course you can add whatever embellishments take your fancy such as beads tassels or pompoms.
SEE VIDEO BELOW

or for a simpler version...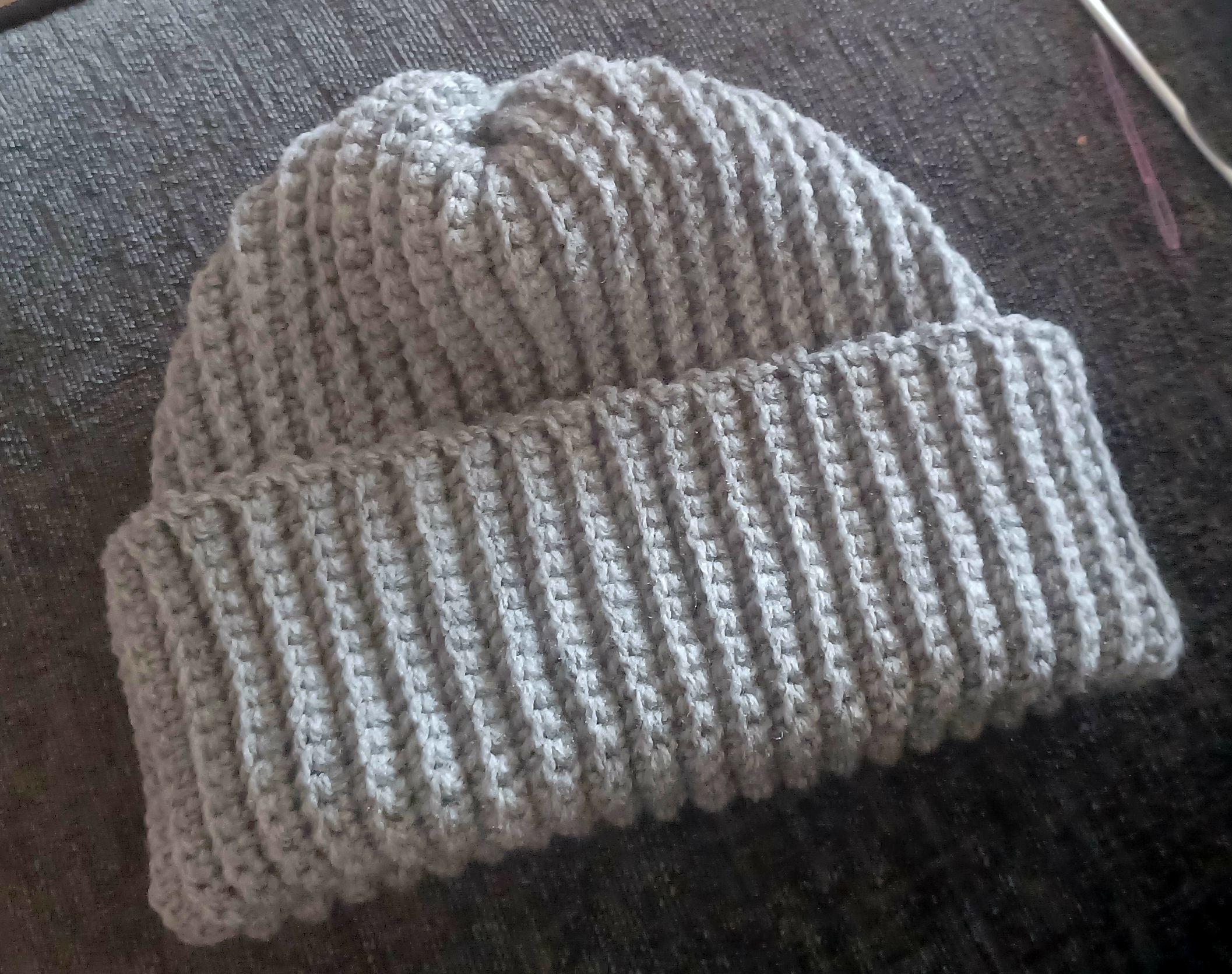 ....make this simple hat from a straight tube of crochet ribbing
 .
.
---
.



Show off Your Work!
Have you finished crocheting something recently? Tell the world! Publish your work on this website for free
---
JOIN US AT CROCHET FANATICS ON FACEBOOK
---