Easy Crochet Mittens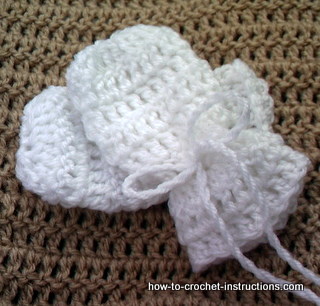 These easy crochet mittens mittens are so quick and easy to make. Although this is a simple pattern it can be easily adapted for the more advanced crocheter by missing out the first row and adding an edging in its place.
If you don't like the twisted cord, you can use ribbon instead or a length of plaited yarn.
Instructions for your easy crochet mittens
Skills Required
Double crochet (UK trebles), chain stitch, decreasing,
Materials
Oddment of light worsted (double knitting) yarn.
4mm crochet hook
Large blunt needle for sewing
Optional - Ribbon for ties
Abbreviations
dc = double crochet (UK treble)
ch = chain
st = stitch
sts - stitches
tch = turning chain
dc2tog = double crochet 2 together (UK treble 2 together)
Instructions
Make 22 chain.
Row 1
1 dc into 4th chain from hook
dc into remaining ch to end
3ch turn (20 sts)
Row 2
Miss 1 st. dc in remaining sts to end
1 tr into tch
3ch turn
Row 3 - repeat row 2
Row 4 - make eyelets
*miss 1 st, dc into next st, 1ch**
Repeat from * to ** to last st. Mis 1 st
1 dc into tch, 3ch turn
Row 5 Miss 1 st
1 dc into chain (try to work into the ch rather than the ch space for best results)
1 dc into next st
Repeat along row finishing with 1dc into tch, 3ch turn
Rows 6-8 work as row 2
Row 9
Miss one st
dc2togx4
work 2dc
dc2togx4
1 dc into tch
Fasten off.
With right sides together and using a large blunt needle sew up the sides and along the top of the mitts. Darn in any loose ends.
Make either a plaited cord or a twisted cord to thread through the eyelets
Alternatively ribbon can be used if preferred
VIDEO TUTORIAL

If you liked these easy crochet mittens then click here for more beginner patterns



 .
.
---
.



Show off Your Work!
Have you finished crocheting something recently? Tell the world! Publish your work on this website for free
---
JOIN US AT CROCHET FANATICS ON FACEBOOK
---