How to Crochet a Scrubbie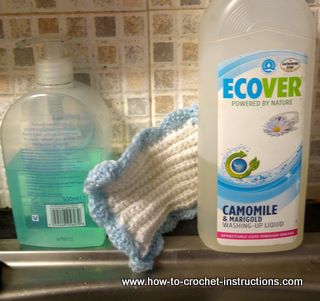 ---
The scrubbie is the most amazing little gadget that you will ever have the pleasure of making and using.  Learn how to crochet your own in the twinkling of an eye
| | | | |
| --- | --- | --- | --- |
| Instructions further down the page | | | |
Who would have thought I would ever get so excited about washing dishes!
Do you need a pattern? I don't think so.  A scrubbie is how you want it to be.
I find acrylic yarn the best to use.  Nice and soft when dry, but wet it and it seems to grow teeth as it eats away at the dried on grot on your pots and plates.
Being used to using those wee sponges with the green scouring pad on one side, I quite like my scrubbies to be short and fat.  You however may prefer one crocheted to look more like your dishcloth.
Thick or thin yarn, it doesn't matter, but be sure to use a thinner hook than normal so that you get a nice tight stitch.  Don't use your best yarns unless you are making them as gifts or to sell.  Remember it is going to get stained.  This is the perfect way to use leftover yarn which would otherwise go in the bin.
They are hygenic too - just pop in with the washing after one use.  Make a few and keep them handy in a pot by the kitchen sink.  They will last a long long time
My favourite is made by working a rectangle in single (UK double) crochet rib stitch. This stitch gives a bit of extra roughness for cleaning. I then fold it in half and join together with either plain single crochet (UK double crochet) or with an edging
If you want to make those little round swirly ones that are so popular, follow the instructions below

How to make one of those little round swirly scrubbies
Using double knitting yarn (UK weight) and a 4mm hook make about 20 - 25 chain
Work one row of single crochet (UK double crochet).
Row2: Working in single crochet rib, increase one stitch at the beginning of the row and  decrease one stitch at the end of the row.
Row3:  Working in single crochet rib, decrease one stitch at the beginning and increase one at the end
Repeat rows 2 and 3 until you have made as many rows as you have stitches.
Lay your piece flat. Fold the bottom corner up


 

You now have a wee tube


Then fold the top corner down

 


 

(If you like, you can just flatten the tube and stitch the ends)


Sew, or crochet, these 2 edges together


 

To make a round one, make running stitches round one end of the tube

| | | |
| --- | --- | --- |
| Gather the stitches up then hook your yarn to the other side | Make running stitches at the other end of the tube and gather these up too | |
Keep pulling on the yarn (not too hard - you might break it) as you gather so that the 2 gathered tube ends come together and then squash your scrubbie into a flat round
Fasten off

.
More ideas for crochet scrubbies




Show off Your Work!
Have you finished crocheting something recently? Tell the world! Publish your work on this website for free
---
JOIN US AT CROCHET FANATICS ON FACEBOOK
---
Show off Your Work!
Have you finished crocheting something recently? Tell the world! Publish your work on this website for free