Textured Stitches
How to Take a Plain Yarn and Turn it Into a Textured Crochet Fabric
Use textured stitches to add interest to your crochet
Stitch Pattern 1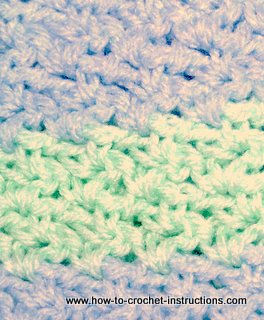 One of my favourites.
This stitch pattern is deceptively easy. It uses only chain stitch, single crochet (UK double crochet), and double crochet (UK trebles)
Even a beginner who has mastered these 3 simple stitches could produce this stitch.
It produces a thick but light fabric that is very pretty and is especially good for anything you want to have a soft cosy feel such as blankets, jumpers, cardigans or bed jackets. It would also make good scarves and winter hats or snuggly bed socks.
You will need to make a foundation chain which consists of a multiple of 3 stitches + 1
Use a size larger hook than you normally would for the thickness of the yarn you are using. The example in the photograph uses double knitting yarn (UK weight) and a 5mm hook.
ROW 1 -
Make 1 single crochet (UK double crochet), 1chain, 1 double crochet (UK treble) into 3rd chain from hook. (The first chain will count as the turning chain when you come to the end of the next row)
*Miss 2 chain, [1 single crochet, 1chain, 1 double crochet] into next chain*
Repeat from * to * all along the row.
End with 1 single crochet into last chain. Turn
ROW 2
1chain (turning chain)
[1 single crochet, 1 chain, 1 double crochet] into each chain space
End with 1 dc into turning chain
Repeat row 2 to form the fabric
VIDEO TUTORIAL





More stitch patterns to follow soon - please bookmark this page or fill in the form (top right) to be informed of any additions to this site





Show off Your Work!
Have you finished crocheting something recently? Tell the world! Publish your work on this website for free