How to Make a Granny Square Baby Blanket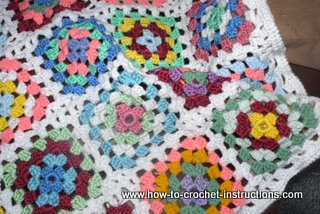 GRANNY SQUARE BABY BLANKET
You will need oddments of double knitting (DK) yarn (UK weight)
You will also need one large ball of a single colour to bring the granny square baby blanket together.
Make up 24 granny squares of 4 rounds each ( click here to learn how to make the squares) using your yarn oddments. you can use the joining colour in these as long as you don't use it on the final (outside) round.
Darn in all loose ends on your squares using a large blunt sewing needle.
Once you have made 24 squares, you will need to lay them out on a flat surface in a rectangle made up of 4 rows of sx granny squares. Arrange them and rearrange them until you are pleased with the look.
Mark the top square of the first row with a thread of yarn, the top of the second with 2 threads, the thirs with 3 threads and the fourth with four, then stack each row in order with the marked square on the top. Put th epiles of squares somewhere that they won't get knocked over and mixed up.
Now that they are marked up and in piles, you can join them together methodically in the right order.
Click Here to learn how to join the squares together using a clever crochet method.
Once your squares are joined, again, you should darn in any remaining loose ends.
Now you are ready to work the final border.
How to Work the Final Border on Your Granny Square Baby Blanket
Beginning at one corner of you blanket, join your yarn to the corner chain space. Work 3 chain (counts as one double crochet - [or treble if you are in the UK])
Work 2 more double crochet (UK trebles) into the same space.
Continue working as if you are making another round of a granny square, working 3chain where there are 3 double crochet, one chain where there are 2 double crochet, 3 double crochet in each 2chain space and 2 double crochet in each 1chain space. At each corner, work [3 double crochet, 2chain, 3 double crochet in the corner chain space.
Make a second round in the same manner.
Next work one round in half double crochet, working one half double crochet (UK half treble) for every double crochet or chain of the previous round. but omit the single chain spaces otherwise your edge will become a little wavy.
Finish with a row of crab stitch.

Your blanket may be a little out of shape. To get it into a nice neat rectangle, use the steam from an iron and pull it into shape, but do not directly iron it.







return to home page from granny square baby blanket
 .
.
---
.



Show off Your Work!
Have you finished crocheting something recently? Tell the world! Publish your work on this website for free
---
JOIN US AT CROCHET FANATICS ON FACEBOOK
---