Basic Crochet Instructions
For The Beginner
 Follow these basic crochet instructions and you will become competant in no time.
For the beginner the best yarn to use is a smooth acrylic yarn of DK (double knitting) Aran or worsted weight. With a fancy yarn it takes a bit of practise to see exactly where to insert your hook. The yarn label should tell you the best size of hook to use, but as a guide a 7 or G/6 (US) 4.5 or 4.0mm (metric) or size 8 or 7 (UK) should be just about right.
Confused about the different yarn thicknesses? (also known as yarn weight) Don't worry, most of us are, due to the differences in terminology in the UK and US. Don't fret about it just at the moment. You won't need to sort that out until you have a pattern you want to follow to make a crochet item and there are plenty of yarn conversion tables on the web.
On this page you will learn how to make a slip knot, how to hold your yarn and hook and how to make a basic chain.
So let's get going!
Basic crochet instructions, making a slip knot
With your ball of yarn to your left hand side, take hold of the yarn in your right hand a quite a few inches from the end. Again take hold of the yarn in your left hand a few inches nearer the ball. Cross the yarn right over left to make a loop.   
Next push another loop - taken from the right hand side (nearer the end of the yarn) - under and then through this first loop.

Tighten the first loop by pulling on the yarn in your left hand.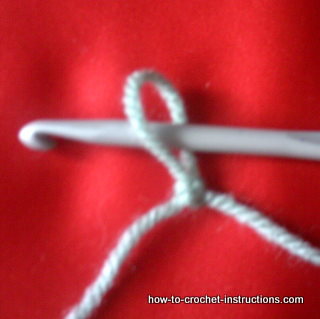 Place the remaining loop onto your hook and tighten again by pulling with your right hand. Don't pull too tight because you are going to have to pull your hook through this loop when you start crocheting.
Clear as mud? maybe this video will help  
---
Basic Crochet Instructions - holding the hook and yarn
Once you have your slip knot on the hook you are ready to make a length of chain stitch. However you must first learn how to hold the hook and yarn. It is vital to get this right if you want to your work to be neat and even and if you want to learn to work quickly.

Hold the hook in your right hand between your thumb and first two fingers and let it rest at the base of your thumb where it joins the hand - like most people would hold a pen ready to write.

Next wind the yarn around the fingers of your left hand as shown in this series of photographs.

Then turn your hand over and grip the base of the loop on your hook between the finger and thumb of your left hand.
VIDEO TUTORIAL 
Now you are ready to make a chain stitch

---
Basic Crochet Instructions - how to crochet a chain stitch
Use the middle finger of your left hand to hold the yarn taught. Remember to keep hold of the knot at the base of the slip stitch loop between your forefinger and thumb otherwise the loop will tighten as you try to pull the hook through.


Pass the crochet hook over and then under the yarn to hook it and pull it through the loop that is already on the hook. 

 That's it! Simple. Just keep on hooking the yarn through until you have the right amount of chain stitches.

VIDEO TUTORIAL


Well Done!
You have learned the very basics of crochet. Now you can Go back to the Beginner Crochet page for more basic crochet instructions to learn a few simple stitches and get going on a simple project. In fact there are a couple of beginner projects on this page which use only chain stitch or chain stitch plus slip stitch.
Please feel free to contact me, Shirley, via the contact page
Best wishes with your beginner crochet projects
If you are looking for more crochet patterns, instructions and ideas and have not found what you want on the internet, a very good source of books (thousands) can be found at Amazon.

for US residents.
If you reside in the UK go to


Show off Your Work!
Have you finished crocheting something recently? Tell the world! Publish your work on this website for free
---
JOIN US AT CROCHET FANATICS ON FACEBOOK
---