Crochet Wristband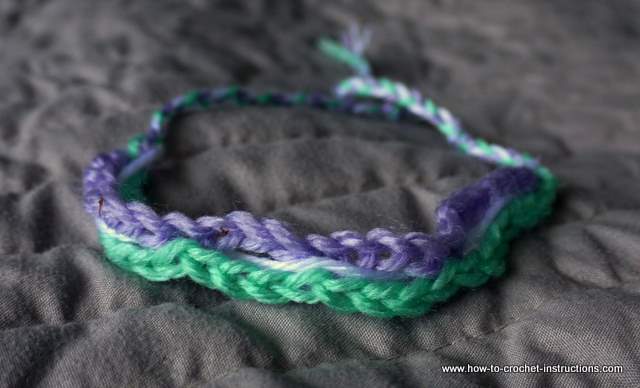 For absolute beginners this crochet wristband is a very easy way of practising your new found skills of forming chains and slip stitches. Kids will love wearing these delightfully simple wrist ornaments, very similar to friendship bracelets.
Instructions for this easy crochet wristband
Using DK yarn (UK weight) and a 5.5mm hook make a slip knot. Leave a long end for the tie.
Make a multiple of 4 chain + 1.
I used 25 chain for the one in the photo. If  you are making it for a child, you will need around 17chain.  Fasten off and again leave a long length for the tie. This is chain A
With another yarn, make a slip knot again with a long length for the tie. Slip stitch into the first chain of chain A. Make 3 chain. *Miss 3 chain on chain A. Slip stitch into next chain *
Repeat from * to * to the end. Fasten off and leave a long length of yarn for the tie.
Take a third length of yarn and cut it to the length of the whole piece including the ties then weave it through the chain length.
Alternatively use a twisted cord or a length of ribbon
Plait the ties and then tie a knot at the end. Trim the ends off evenly.
If you like, you can add a bit of bling by threading beads onto the centre yarn before threading it through the chains.
By making it longer it can be made into a neck ornament. Use your imagination and search out pretty shiny yarns or cords, thread it with jewels, beads and/or crystals and it will be fit for an adult to wear too, either tied at the back, or with beads threaded on the ties and tied at the front.

Video Tutorial
Show off Your Work!
Have you finished crocheting something recently? Tell the world! Publish your work on this website for free
---
JOIN US AT CROCHET FANATICS ON FACEBOOK
---